Britain's Kelly Sotherton is set to be upgraded to her third Olympic bronze medal.
The development comes as a result of the International Olympic Committee (IOC) disqualifying Russian heptathlete Tatyana Chernova for testing positive for a steroid at the 2008 Games in Beijing.
Chernova's positive is only the latest in a long line from the IOC's re-analysis of stored anti-doping samples from the 2008 and 2012 Games.
Sotherton, who won a surprise bronze medal in the heptathlon at the 2004 Games, has already been upgraded to a bronze in the 4×400 metres relay in Beijing thanks to the belated disqualification of the teams from Belarus and Russia.
She also finished fifth in the heptathlon in 2008 but has now climbed to third after the previously announced doping ban of Ukraine's Lyudmila Blonska and now Chernova.
The 40-year-old from the Isle of Wight retired from athletics in 2012 having won medals at Commonwealth, European, Olympic and world level, indoors and outdoors.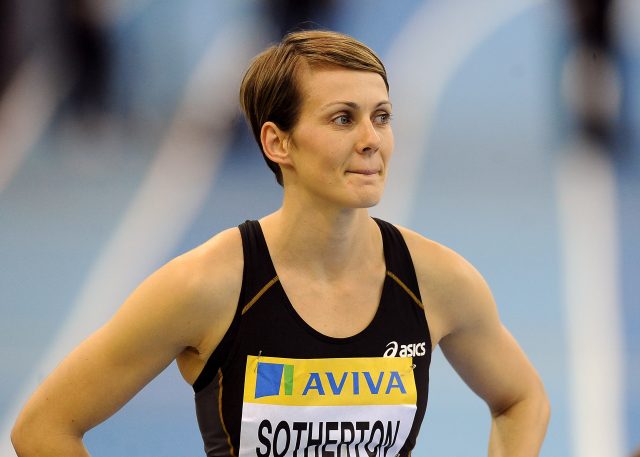 Chernova, 29, has already lost a 2011 world title, 2012 Olympic bronze and 2013 World Student Games gold for a retrospective positive test from the 2009 world championships. But she was not the only Russian sanctioned by the IOC on Monday as 400m runner Maksim Dyldin was disqualified from the 2012 Games in London, for testing positive for the same anabolic steroid.
The 29-year-old finished 17th in the individual event and helped Russia come fifth in the relay, both he and the team now lose those results. Dyldin has already lost a relay bronze medal from the 2008 Games for a team-mate's positive test and is currently serving a four-year ban for refusing to take a test. However, he still has a relay bronze from the 2013 world championships and European gold and silver medals from 2010 and 2014 respectively.
In total, the IOC has now caught 111 athletes in three recent waves of re-testing from 2008 and 2012. Russia accounts for 37 of those, with Belarus second on 16, Kazakhstan 12 and Ukraine 11.